almosthonest
So this baseball boy right here? He's one of my favorite boys in the whole world. His name is Buster Posey.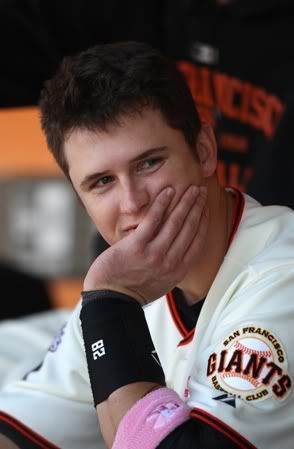 He got hurt in a game last night and is possibly out for the rest of the season with a broken leg and torn ligaments in his ankle. I am so praying that he isn't going to be out the whole time, though. Sigh. Stupid Marlins. I am heartbroken that Buster is injured and sad for my boys. I wrote more about the whole thing over on my
baseball blog
.
Sad me is sad. =(
But...baseball boy in my icon (Eli Whiteside) now takes over as starting catcher and will be awesome. I <3 the Eli to pieces.
Real update soon. I have been badly neglecting this place. Busy with other things, I suppose. Kitten, school, work, etc. Back soon. Really. I swear.